A 15-minute How-To Guide for the Woman Who Just Can't in the Morning
March 29 2020
·
March 29 2020
·
Sleeping through the alarm, staying up late knowing full well you have that early morning meeting, ladies- we've all been there. That's why from the many rushed mornings and a lifetime supply of advice from the pages of Cosmo Magazine, we bring you: the working woman's best kept secrets on how to get it together when you've got 15 minutes to get out the door.
Although the idea of "dressing for success" is outdated, many of the concepts are still relevant today. It has even been scientifically proven that dressing well and feeling put together literally makes you more productive! A study at Yale University concluded that those who dress up for work are more likely to feel dominant, confident, and have a greater level of abstract thinking (the kind of thinking that engages leaders and executives.) Honest question: who doesn't want a daily boost of confidence? Not to mention, it also makes the people around you (perhaps your boss who you've been dying to ask for a promotion or the cutie who works across the street) see you as more prepared. As the great Coco Chanel once said, "Being well dressed is a beautiful form of politeness."
1. Organization is key
Let's be real, without a doubt, cleaning is the absolute worst. But, as it turns out, it is actually the number one thing you can do to stay on time. You might be getting ready for a night on the town or have an important meeting at work, and the last thing you need is to spend ten minutes sifting through drawers looking for the matching blazer to your slacks. The resolution? You guessed it, an organized closet. More importantly, to optimize your morning, you should try to keep your clothes organized by occasion. Keep formalwear, workwear, weekend wear, and pajamas together and separate from each other. That way, you can keep the things you wear most easily accessible.
Pro tip: Hang as much of your wardrobe as you can, folding leaves the possibility of creases, which result in more time spent steaming or tumble drying those wrinkles out, and less time getting ready. Plus, it's much easier to visualize an outfit when you have everything hanging up!
2. Flat lay your look(s)
This one is the ultimate time saver. Putting your outfit together the night before, or even better, planning all of your outfits for the week ahead, will guarantee you are the first one in the office (and the best dressed.) There is nothing worse than thinking your outfit will be on point, only to find when you put it all together in the morning that the top doesn't tuck in the way you envisioned or the colors don't match quite right. Planning ahead is the best of both worlds! Bonus, you can take those adorable flay lay photos for your Instagram you never had a chance to before. Ladies, this is the only way to live.
Side note, knowing what you're wearing in advance will eliminate that embarrassing moment when you realize, "I really should have shaved my legs before wearing this skirt." Win, win!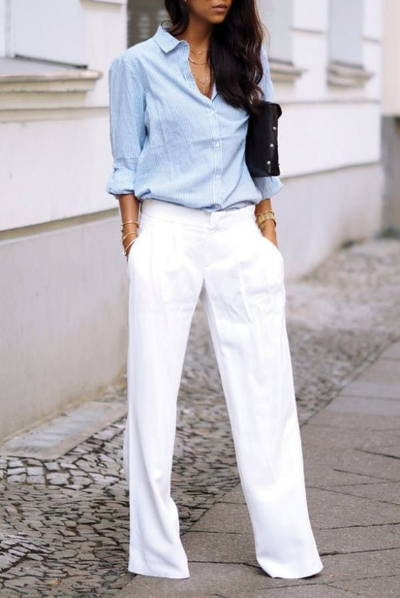 3. Bring back the basics
President Obama said it best, "You'll see I wear only gray or blue suits. I'm trying to pare down decisions. I don't want to make decisions about what I'm eating or wearing. Because I have too many other decisions to make."
Having your favorite go-to pieces at the ready ensures that you've always got something to throw together. Find your basics and the pieces you feel most comfortable in, and keep them separate, so when you feel like you have absolutely nothing to wear, you're armed with a quick fix. This is so simple and something you probably already do without thinking, by regularly re-wearing your favorites. It will get you moving so much faster and alleviate unnecessary stress, because girl boss, you've got the world to dominate. *Speaking of, if you haven't already binge-watched the entire first season of Girlboss, you need to, like, yesterday.  
4. When in doubt, stick to the classics
An all-black ensemble says, "I am here for business," even when it really means, "I had nothing to wear this morning." Many famous stylists have advised owning at least one piece of every garment in black. That means a shirt, pants, skirt, and dress. Black matches everything, making this an absolute staple in the working woman's wardrobe. Plus, it's chic, slimming, and low-maintenance.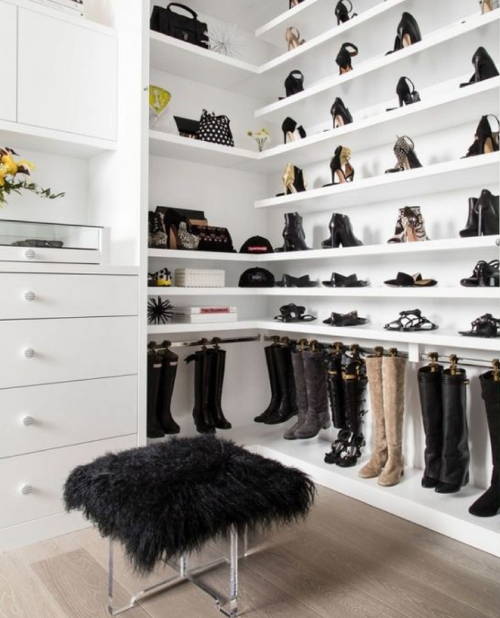 5. Shoes: Keepin' it Neutral
The greatest investment a woman can make is in herself. The second greatest investment is a great pair of shoes. There is nothing more important than having a comfortable (and fabulous) pair of heels to tie your outfit together. Keeping at least one pair of nude shoes in your outfit rotation is a fashion must, and the best part- you can wear them over and over again. Purchasing shoes in neutral tones make them easy to match with anything you are wearing, yet again, giving you one less thing to worry about. Going neutral also makes those statement heels you had to have even more special!
Pro Tip: Always wear insoles with new heels, it makes them more comfortable and helps to wear them in faster!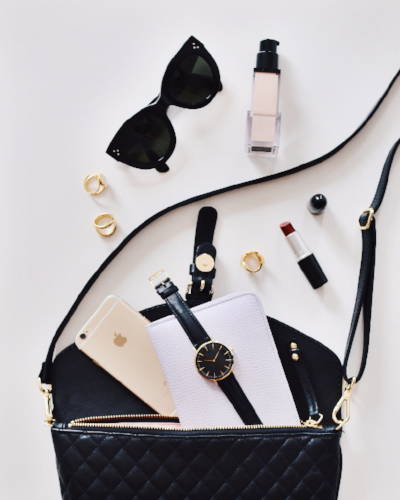 6. Keep that handbag prepped
A well-packed handbag could save the world. Well, we think so at least. Packing your tote the night before, or keeping essentials in an easily transferrable pouch, makes for a quick exit in the morning. Many women keep a smaller zipper bag filled with the essentials- wallet, chapstick, Band-Aids etc. to easily transfer from handbag to handbag. There is no better feeling than knowing you've got everything you need and didn't forget something important in your other purse!
These are the 14 items WhoWhatWear says every woman needs in her handbag: After coffee mints, save the day concealer, nourishing hand cream, hydrating lip balm, oil-controlling blotting sheets, signature lipstick, your go-to perfume, $20 cash, a sleek compact mirror, extra hair-tie, a pair of sunnies, a nail file, hairpins, and a powder compact.

7. Outfit first, makeup second
Makeup, while equally important to completing a look, can be applied on the go- at least, better than your clothes would be! As we mentioned above, keeping a few makeup essentials in your handbag will ensure that you are always prepared for your day, every day. Plus, swiping on a fresh layer of mascara and a touch-up of concealer at lunch is the perfect afternoon eye brightener. Just make sure you're not driving and blending, this step is for stop lights and public transportation only, ladies!
Read more
✕